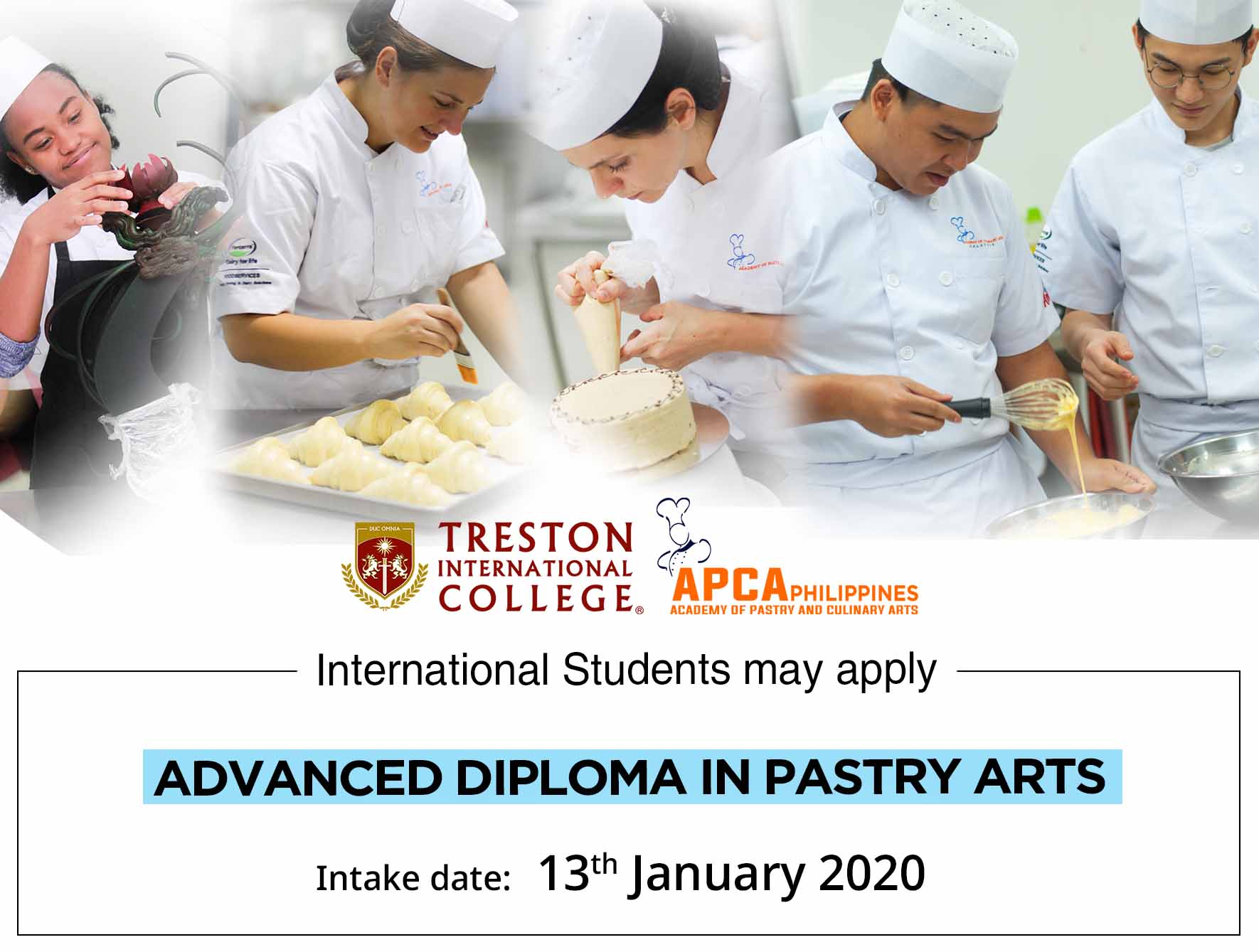 Intake date: 
Requirements for Visa
Visa Application form (Click Here to Download Form)

Letter Acceptance from Academy

Visa Fee USD 1000

Automatic extension of tourist visa

Alien Card

Copy of Passport
Full Time Program in Pastry & Bakery Arts
COURSE INFO
The 9 months Advance Diploma in Pastry & Bakery Arts is a hands-on course and suitable for INTERMEDIATE learners.

You will not only learn the intermediate, but reach an advanced level in your Bakery & Pastry skills.

You will be granted an international recognized Advanced Diploma by City & Guilds UK.
You will cover the BASIC CERTIFICATE MODULES and then learn these additional INTERMEDIATE skills and ADVANCED skills.
BASIC LEVEL
Food Safety & Hygiene

Boulangerie - Preferment

Laminated Dough & Paste

Classic French Pastries

Café Style Plated Desserts

Chocolates, Pralines & Bon Bon

Cake Designing with Fondant

Tarts, Pies & Flan

Basic Petite Gateau

Biscuits, Cookies & Macarons

Traditional Entremet

Quarterly Assessment
DIPLOMA 
(L'Art de la Patisserie)
Food Preparation & Techniques

Asian Breads & Sandwiches

Specialised Viennoiserie

Contemporary French Pastries

Restaurant's Plated Desserts

Science of Ganache & Confections

Cake Designing with Royal Icing

Japanese French Pastries

Traditional French Travel Cakes

Artistic Chocolate Showpiece

Basic Sugar Showpiece

Diploma Assessment
ADVANCED DIPLOMA 
(L'Art de la Patisserie & Confections)
Supervisory Skills & Business Mgmt

Artisan, Sourdough & Levain

Advance Tart & Torte

Modern French Pastries

Fine Dining Plated Desserts

Bean to Bar, Praline & Candy

Celebration Cake Making & Decorating

Delicatessen for High Tea

Ice-cream, Sorbet & Cakes

Contemporary Chocolate Display

Contemporary Sugar Showpieces

Advanced Diploma Assessment
FEE STRUCTURE (International Students)
Tuition Fee
Admission Fee USD 1,000
Course Fee USD 9,000
Total Fee USD 10,000
Additional Fee:
City & Guilds UK Diploma USD 160
City & Guilds UK  Advanced Diploma USD 140
Other Fees:
Hepatitis Vaccine USD 30
Student Insurance USD 10
Clinic facility USD 4
Have Any Question? Ask Us NOW!