Soon to offer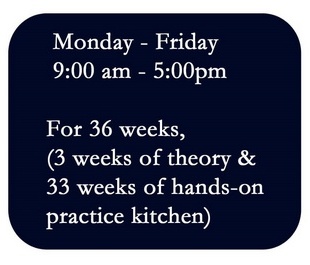 This is primed at those who envision to work as a chef for 5-star hotels, leading restaurants or as entrepreneurs- a whole gamut of different individuals to cater to. This finely crafted 9-month course begins from the scratch and takes you to the advanced level, increasing your dexterity over all major international cuisines.
The USP of this course lies in its hands-on approach where every student makes his/her own product in the kitchen. Additionally, certification from City & Guilds, London adds to the options of exploring the employment opportunities overseas.
For those who want to pursue cooking as a hobby or working professionals who run short of time to pursue our Full-Time course, join the Part-Time Program.
COURSE INFO
The 9 months Advanced Diploma in Culinary Arts is a hands-on course and suitable for INTERMEDIATE learners.

You will not only learn the intermediate, but reach an advanced level in your Culinary skills.

You will be granted an international recognized Advanced Diploma by City & Guilds UK
You will cover the BASIC CERTIFICATE MODULES and then learn these additional INTERMEDIATE skills and ADVANCED skills.
BASIC LEVEL
Theory- Food and Safety Hygiene

Knife Skill, Cutting Technique & Identification of Ingredients

Principles of Cooking

Vegetables and Potatoes

Stocks & Basic Sauces

Basic Soups

Eggs

Fish & Shell Fish

Beef & Poultry

Grain & Pasta

Plated Dessert

Assessment
Intermediate Level 

Theory

Breads

Buffet & Staff Meals

Complex Sauces

Food Preservation &Vinaigrette

Force Meat & Process Product

Game and Lamb

Filipino Cuisine

Thai Cuisine

Plated Dessert

Modern French Pastries

Assessment
Advanced Level

Theory-Cost Control & Menu Planning

Basic Molecular and Sous Vide

Classic French Cuisine

Fusion Cuisine

Italian Cuisine

Japanese Cuisine

Tapas / Amuse Bush

Savoury Canapé

Ice cream & Gelato

Fine Dining

Plated Dessert

Assessment
[envira-gallery id="2102"]
FEE STRUCTURE
Option-1 (Full Payment)
Admission Fee Php 50,000
Course Fee Php 350,000
Total Fee Php 400,000
Option-2 (Quarterly Instalment)
1st Quarter Php 150,000
2nd Quarter Php 150,000
3rd Quarter Php 100,000
Total Fee Php 450,000
Option-3 (Monthly Payment)
1st Month Php 50,000
2nd Month Php 50,000
3rd Month Php 50,000
4th Month Php 50,000
5th Month Php 50,000
6th Month Php 50,000
7th Month Php 50,000
8th Month Php 50,000
9th Month Php 50,000
Total Fee Php 450,000
Additional Fee:
City & Guilds UK Diploma Php 8,000
City & Guilds UK  Advanced Diploma Php 7,000
Total Fee Php 15,000
Other Fee:
Hepatitis Vaccine Php 1,500
Student Insurance Php 500
Clinic facility Php 200

Enroll today.
[wpforms id="1259" title="false" description="false"]