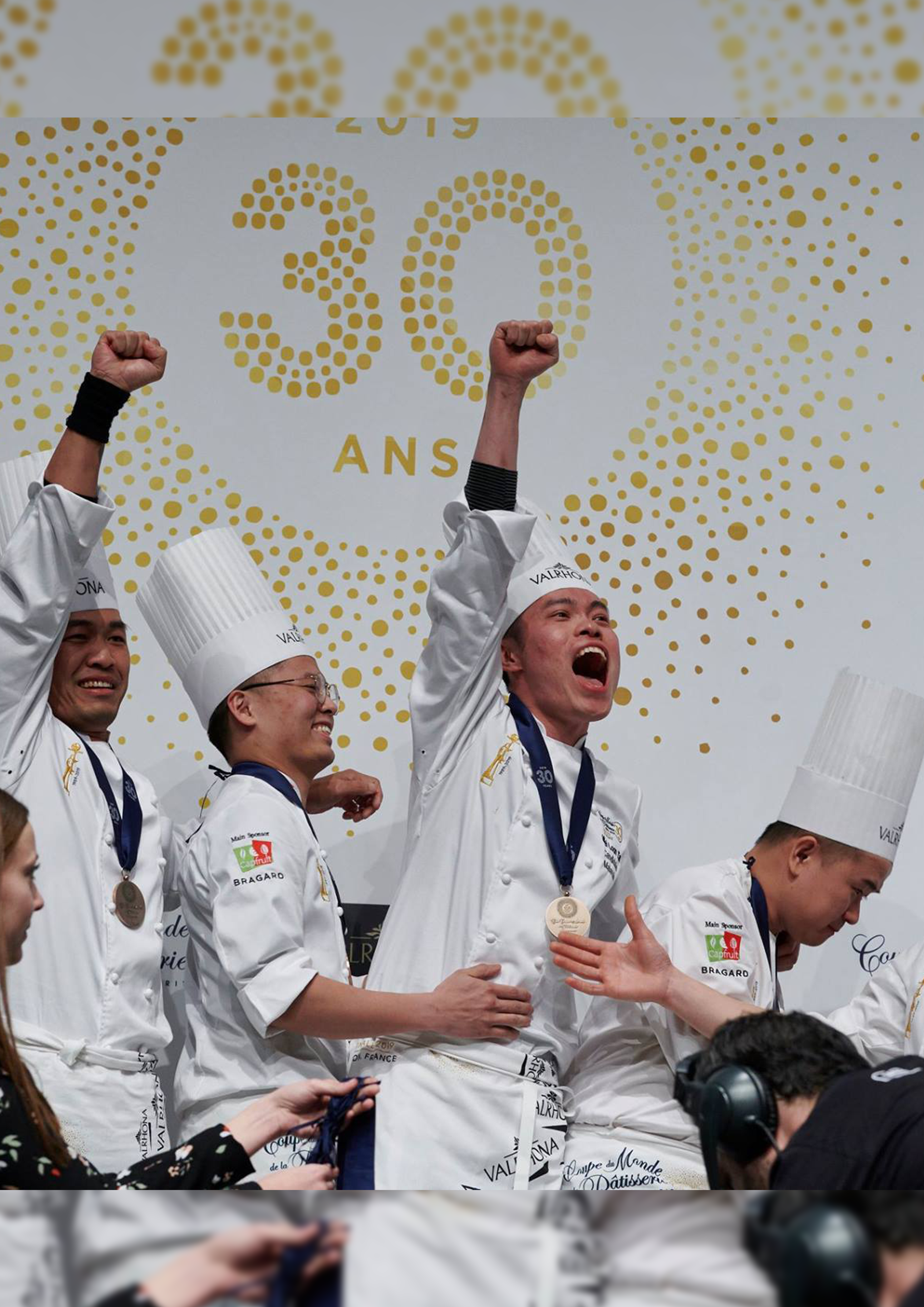 Chef Wei Loon Tan and Chef Ming Ai Loi wins World Pastry Cup 2019
The Malaysian team, consisting of Wei Loon Tan (sugar chef), Otto Tay (chocolate chef) and Ming Ai Loi (ice carver), yesterday became the winner of the World Pastry Cup held in Lyon. On its 30th anniversary, the competition makes history by placing Malaysia at the top of its podium for the first time with only a few points (11.904) ahead of Japan (11.862), which came in second place, and at some distance behind was Italy (11.083), in third place.
---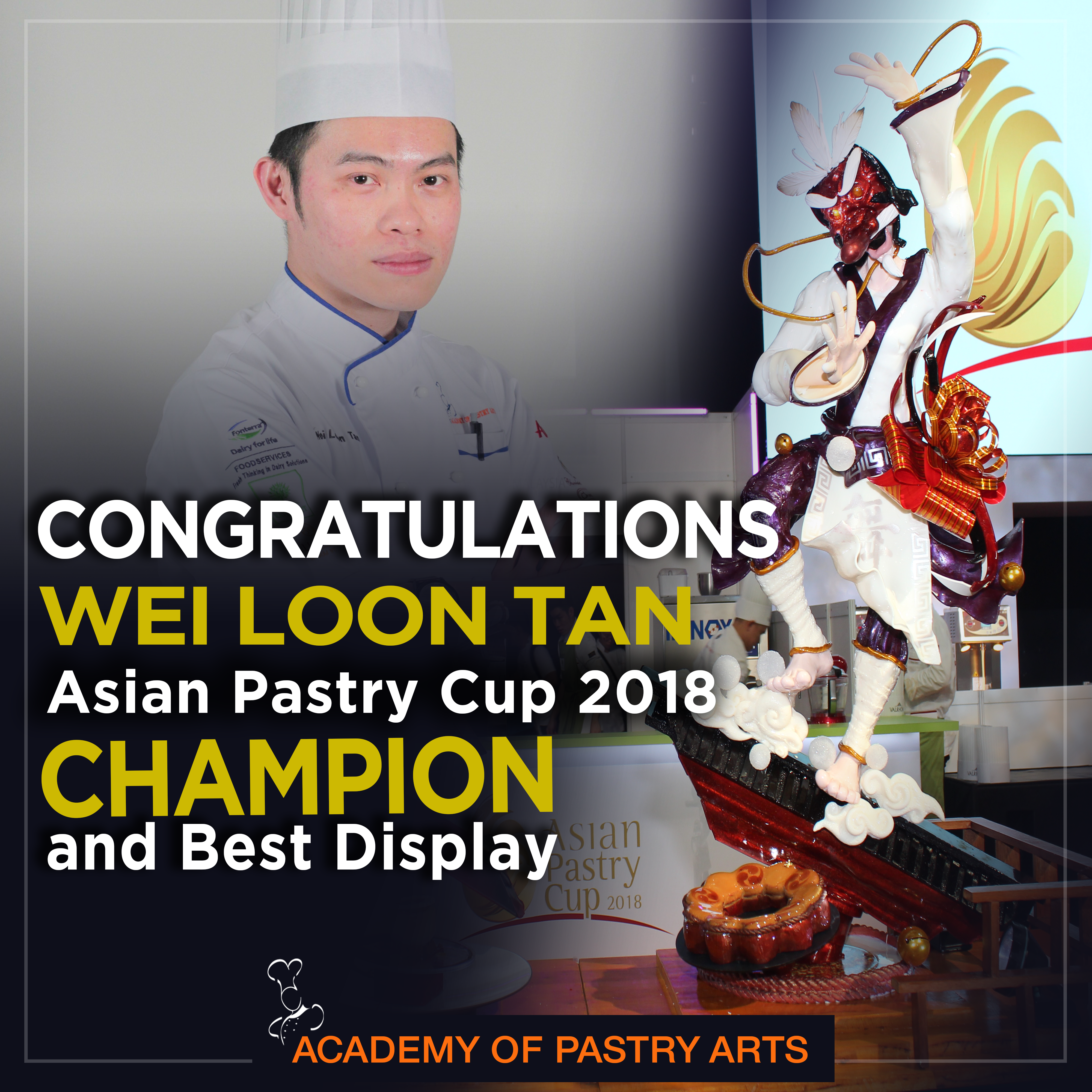 Chef Wei Loon Tan wins Asian Pastry Cup 2018
Malaysia has won the Asian Pastry Cup 2018, the largest "live" pastry competition in Asia, which was held in April during the International Food and Hospitality Tradeshow Food&HotelAsia (FHA) in Singapore. The team, sponsored by Dobla and formed by Otto Tay, Tan Wei Loon, and Patrick Siau, won over eleven other participating countries, obtaining a direct pass to the 2019 Coupe du Monde de la Pâtisserie, which will take place in Lyon. Like the rest of the candidates, they had eight hours to prepare and present a chocolate showpiece, a sugar showpiece, 18 plated desserts and 2 chocolate pastries.
---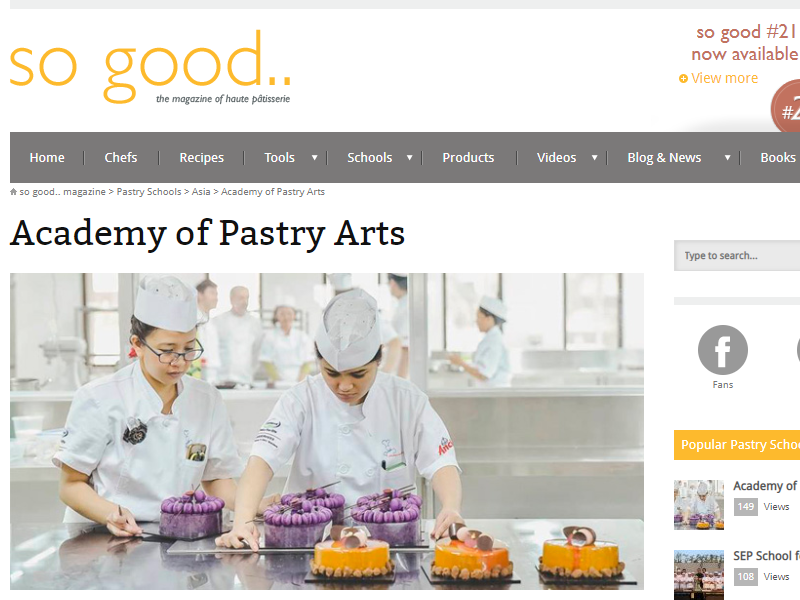 Popular Pastry School
Name of School: Academy of Pastry Arts Brief History: Founded in 2010 in the heart of Petaling Jaya in Malaysia by Niklesh Sharma, The Academy of Pastry Arts Malaysia is known as one of the Finest Pastry School in Asia. It has centers in Malaysia, India, the Philippines, Indonesia, and Singapore: – Malaysia (2010) – Philippines (2015) – India New Delhi (2015) Bangalore (2017) Mumbai (2018) – Indonesia (2018) – Singapore (opening 2019)
---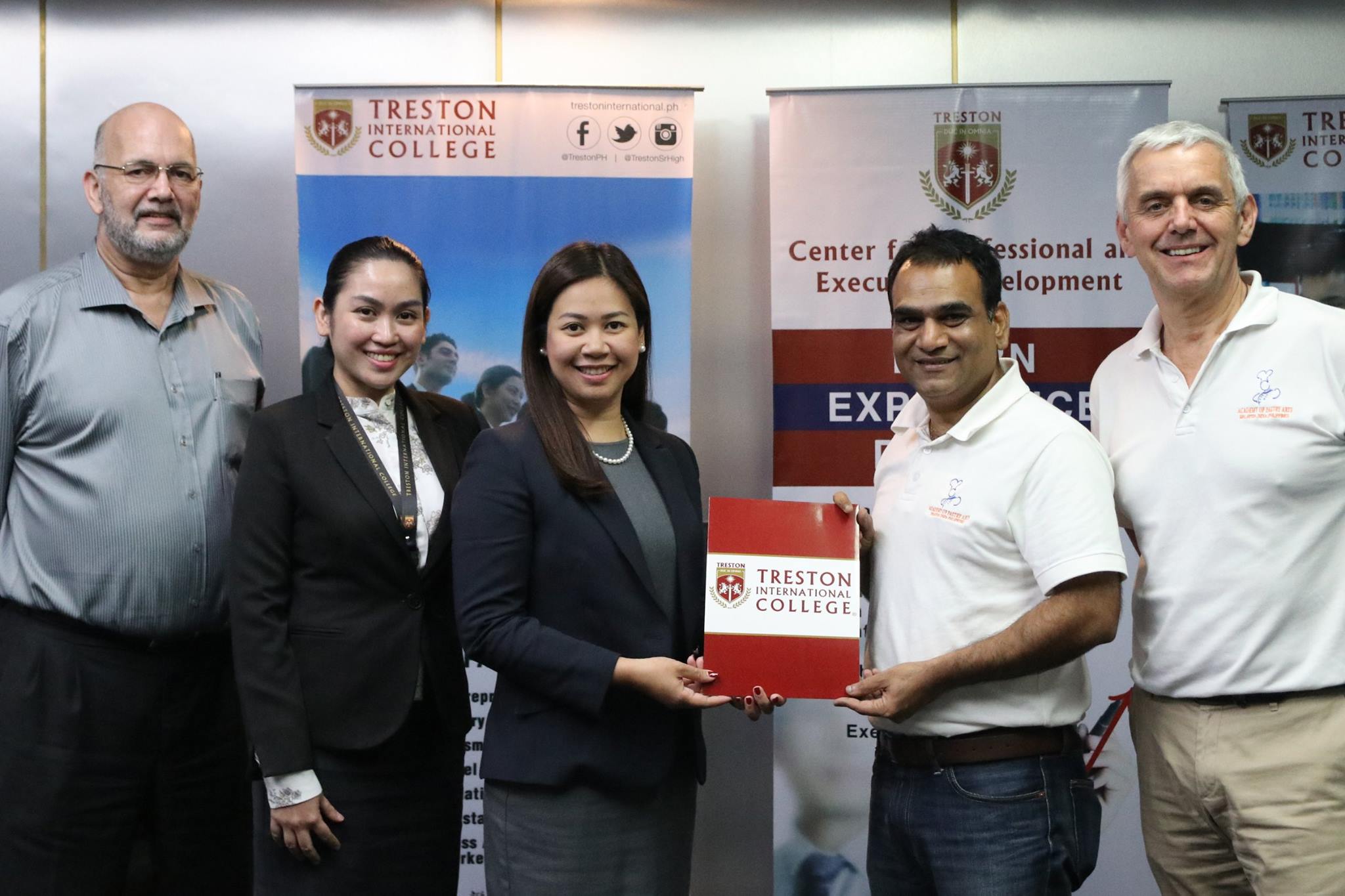 Partnership with Treston International College
Signing of MOU between the Academy of Pastry and Culinary Arts Philippines and Treston International College for a brand new Program called "Entrepreneurship in Pastry and Bakery Arts" Date: 20 June 2017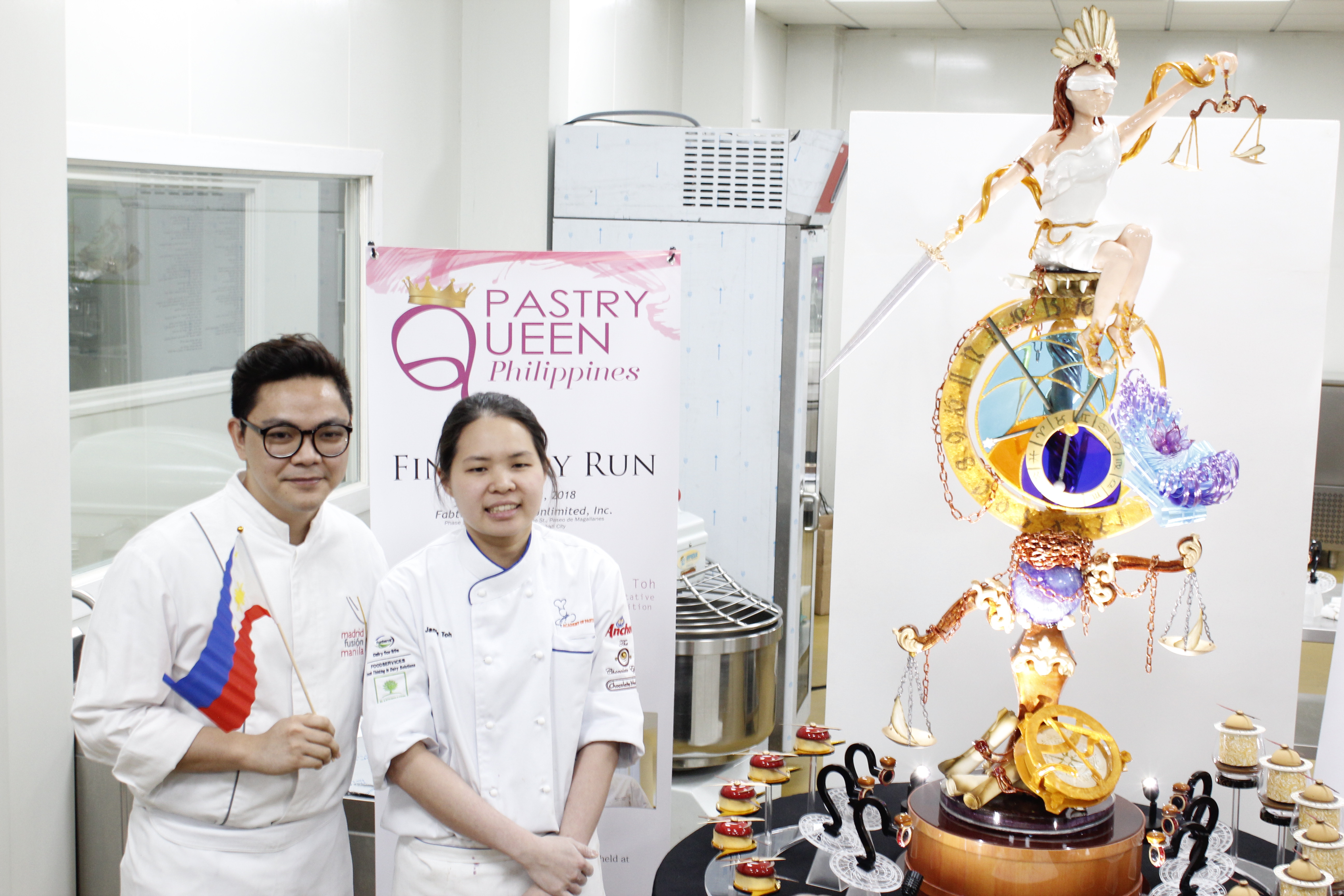 Behind the scenes: What to expect to Chef Janelle Toh's showpiece for the World Pastry Queens Championship
Last January 13, we spotted Academy of Pastry Arts Philippines' very own Chef Janelle Toh working in a calm but sure demeanor, one that indicated hushed confidence. That fated weekend marked the final dry run of the first ever Philippine representative to the fourth edition of the World Pastry Queen Competition.
---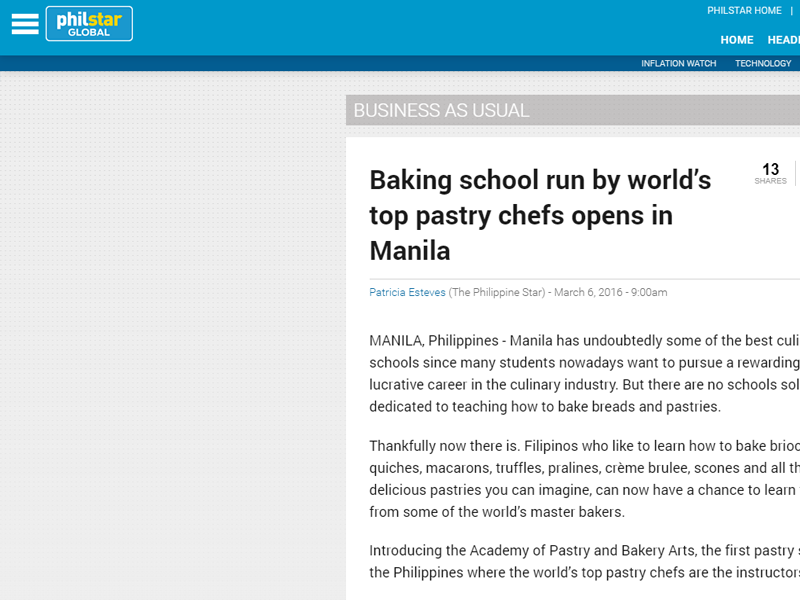 Baking school run by world's top pastry chefs opens in Manila
MANILA, Philippines - Manila has undoubtedly some of the best culinary schools since many students nowadays want to pursue a rewarding and lucrative career in the culinary industry. But there are no schools solely dedicated to teaching how to bake breads and pastries. Thankfully now there is. Filipinos who like to learn how to bake brioche, tarts, quiches, macarons, truffles, pralines, crème brulee, scones and all the delicious pastries you can imagine, can now have a chance to learn them from some of the world's master bakers. Introducing the Academy of Pastry and Bakery Arts, the first pastry school in the Philippines where the world's top pastry chefs are the instructors.
---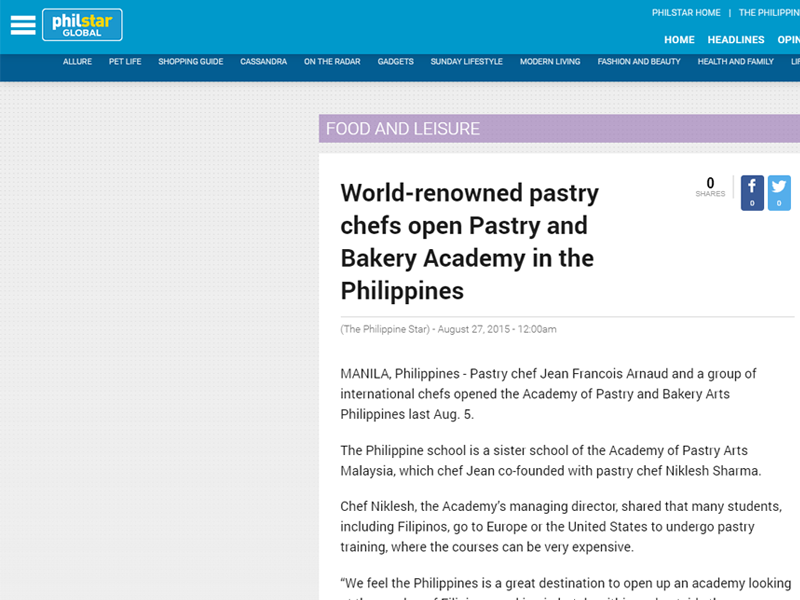 World-renowned pastry chefs open Pastry and Bakery Academy in the Philippines
MANILA, Philippines - Pastry chef Jean Francois Arnaud and a group of international chefs opened the Academy of Pastry and Bakery Arts Philippines last Aug. 5. The Philippine school is a sister school of the Academy of Pastry Arts Malaysia, which chef Jean co-founded with pastry chef Niklesh Sharma. Chef Niklesh, the Academy's managing director, shared that many students, including Filipinos, go to Europe or the United States to undergo pastry training, where the courses can be very expensive.
---