Next Intake: 
01 October 2019 - 7 slots left
13 January 2020 - Now open for reservation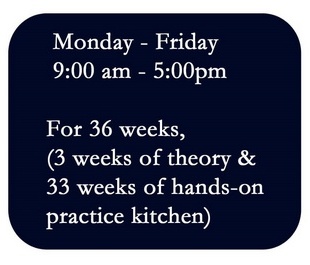 Pastry Arts programme is a hands-on course suitable for total beginners. We teach our students the basic skills in Pastry & Bakery Arts. You may choose this short program to enhance your existing knowledge in food and beverage. It is categorized into different sets of modules that will justify the level of training provided to the students. The program is carefully designed to ensure that the student gradually moves from basic to the most advance level of training
This 9-month Pastry course is suitable for those who wants to become a professional Pastry Chef in a 5 Star Hotels or to those who wanted to launch their own Patisserie or Boulangerie. This is meant to mold and prepare those who wants to start in this industry, classes are filled with the setting of basic rights and this will harness advance techniques and cuisines. We emulate the French Cuisines, so the use of egg is mandatory in almost all our recipes. All our courses are certified by the City & Guilds London, which is highly regarded World Wide. Our school is dedicated to the art of pastry and it is our goal to be the finest pastry school in Asia, producing the best-prepared professionals entering the industry. Promoting lifelong learning by providing continuous education courses for graduates, professionals and food enthusiasts.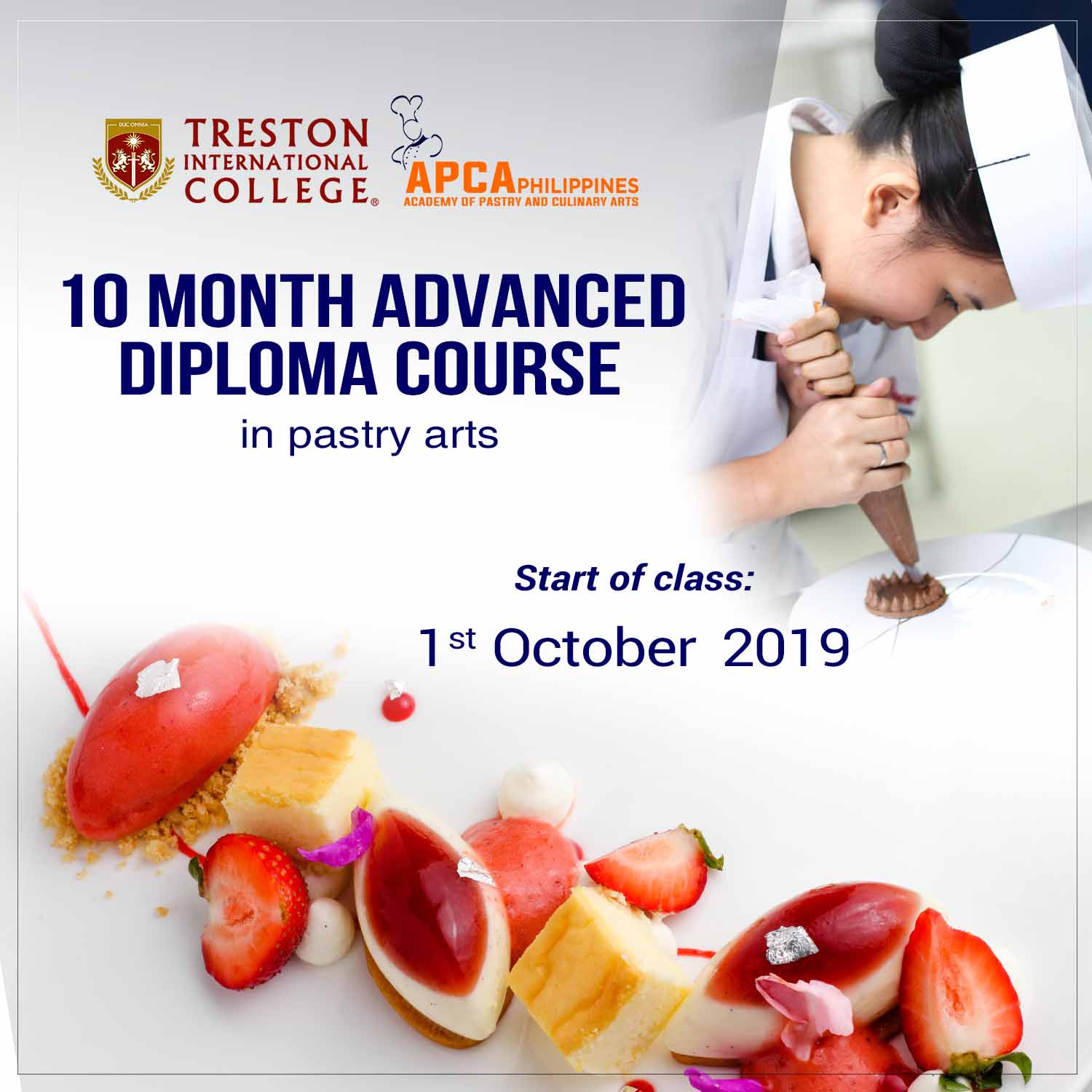 COURSE INFO
The 9 months Advance Diploma in Pastry & Bakery Arts is a hands-on course and suitable for INTERMEDIATE learners.

You will not only learn the intermediate, but reach an advanced level in your Bakery & Pastry skills.

You will be granted an international recognized Advanced Diploma by City & Guilds UK.
You will cover the BASIC CERTIFICATE MODULES and then learn these additional INTERMEDIATE skills and ADVANCED skills.
BASIC LEVEL
Food Safety & Hygiene

Boulangerie - Preferment

Laminated Dough & Paste

Classic French Pastries

Café Style Plated Desserts

Chocolates, Pralines & Bon Bon

Cake Designing with Fondant

Tarts, Pies & Flan

Basic Petite Gateau

Biscuits, Cookies & Macarons

Traditional Entremet

Quarterly Assessment
DIPLOMA 
(L'Art de la Patisserie)
Food Preparation & Techniques

Asian Breads & Sandwiches

Specialised Viennoiserie

Contemporary French Pastries

Restaurant's Plated Desserts

Science of Ganache & Confections

Cake Designing with Royal Icing

Japanese French Pastries

Traditional French Travel Cakes

Artistic Chocolate Showpiece

Basic Sugar Showpiece

Diploma Assessment
ADVANCED DIPLOMA 
(L'Art de la Patisserie & Confections)
Supervisory Skills & Business Mgmt

Artisan, Sourdough & Levain

Advance Tart & Torte

Modern French Pastries

Fine Dining Plated Desserts

Bean to Bar, Praline & Candy

Celebration Cake Making & Decorating

Delicatessen for High Tea

Ice-cream, Sorbet & Cakes

Contemporary Chocolate Display

Contemporary Sugar Showpieces

Advanced Diploma Assessment
FEE STRUCTURE (Local Students) : (PHP - Philippine Peso)
Option-1 (Full Payment)
Admission Fee Php 12,000
Course Fee Php 438,000
Total Fee Php 450,000
Option-2 (Quarterly Installment)
1st Quarter Php 150,000
2nd Quarter Php 150,000
3rd Quarter Php 150,000
Total Fee Php 450,000
Option-3 (Monthly Installment)
1st Month Php 55,000
2nd Month Php 55,000
3rd Month Php 55,000
4th Month Php 55,000
5th Month Php 55,000
6th Month Php 55,000
7th Month Php 55,000
8th Month Php 55,000
9th Month Php 55,000
Total Fee Php 495,000
Additional Fee:
City & Guilds UK Diploma Php 8,000
City & Guilds UK  Advanced Diploma Php 7,000
Total Fee Php 15,000
Other Fees:
Bread & Pastry Production NC II Php 1,500
Hepatitis Vaccine Php 1,500
Student Insurance Php 500
Clinic facility Php 200


We're ready to help. Leave us a message