Master class - 3 to 4 days workshop 
Our 3 to 4 days Master classes are for Hotel Professionals, Pastry Shop owners, Pastry Instructors and Pastry enthusiasts. It will be a combination of Hands-on and demonstration. The participants will have an opportunity to create recipe under the supervision of the experts. The Master chefs will share the tricks of the trade, valuable tips, new technology and concepts that will allow them to expand their knowledge and skills.
Visiting guest chefs 2020
Frédéric Hawecker, after having practiced through France as "a compagnon du devoir" during 7 years, worked as an assistant to the ENSP training staff in Yssingeaux for 1 year. During this time, he started the high level competitions:
2000- trophée Pascal Caffet (1rst Price)

2001-Nantes serbotel, 2nd (qualification grand prix international de chocolaterie Sibenaler)

2002- 1st artistic price grand prix international de chocolaterie Sibenearsaler and other regional compétitions in chocolat like Annecy, Marignane, Dijon….

2007-finalist MOF chocolatier

2011-finalist Mof chocolatier et laureate
In 2002, whith his brother Guillaume, he takes over a centenarian Pastry-Chocolate shop in Chateaurenard, a city in the heart of Provence.
Frédéric also works as a consultant for the Chocolaterie de l'Opéra also situated in Chateaurenard, a Partner since his beginnings in 2002.
With them, he presents many démonstrations across the word (Middle Est, Asie, Europe…). Expert in the preparation of the ganaches and technology, he acts as a consultant for firms for the development of new products or the improvement of existing receipes.
Frédéric also teaches in Professional schools in France and through the world.
Chef Tan Wei Loon is World Pastry Champion 2019 (Coupe du Monde de la Patisserie) Asian Pastry Champion 2018 and 2014, undisputedly one of the Best Pastry Chefs in Asia.
He is APCA Malaysia Director of Pastry Studies. He has represented the Malaysian National Team in many International Pastry competitions. His special skills are Modern French Pastry, Sugar Art, Airbrush Techniques, Chocolate Displays and Chocolate and Praline making.
He competed for Coupe Du Monde 2015 Sirha and ranked 4th in the World. He is the Coach of Malaysian National Team competing in World Pastry Cup 2017 Lyon.
Chef Tan travels all over the world conducting workshops for Pastry schools and Pastry Professionals.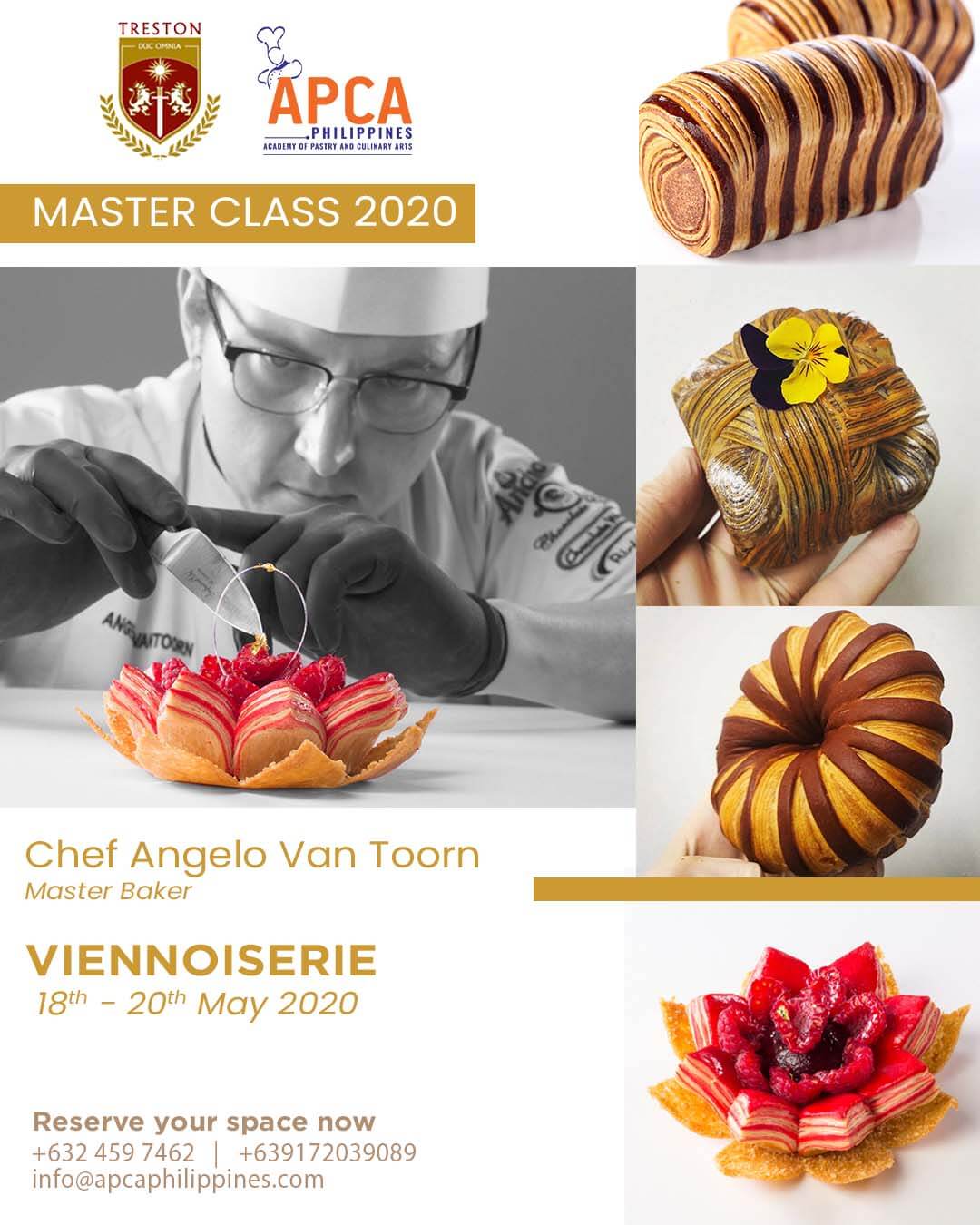 Chef Angelo Van Toorn graduated from Johnson and Wales University where he obtained degrees in both Culinary Arts and Baking and Pastry Arts. He continued on to work for Michelin Star Chef Michael Mina for several years. After leaving the Mina Group, he began working for The Four Seasons Hotels and Resorts travelling across the states to improve and establish baking programs in several Four Seasons Hotel including Miami, Palm Beach, Chicago, Vail and Denver Colorado. He joined the Academy of Pastry Arts Malaysia in January 2015. He currently is a certified Baker by the Retail Bakers Association of America as well as a Long Term Member of the Bread Bakers Guild of America.
Have Any Question? Ask Us NOW!