Philippine Pastry Forum - Master Class Series
Professional Workshop featuring 9 classes in advanced pastry making techniques taught by World Renowned Chefs, Executive Pastry Chefs, MOFs & World Pastry Champion. This will be a fantastic opportunity to ensure that you will get the best workshop suiting your own preference at affordable prices.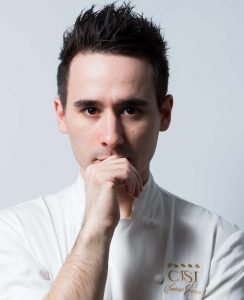 Joaquin Soriano - Nouvelle French Pastries
Nouvelle French Pastries
2nd to 4th August 2019 (9:00 am to 5:00 pm)
Professional
Php 50,000
Joaquin Soriano
Head Chef/Co founder - CJSJ
Chef Joaquin has many years of experience in the Michelin restaurant, accepting the training of the orthodox French West Point. The strength and infinite creativity of the company have been completely changed every two months since its establishment. It's a long time to meet CJSJ.
[envira-gallery id="1610"]
Chocolate, Praline, Candy Making & Bean to Bar
Conducted by MOF Chef Frederic Hawecker
1st to 4th April 2019
[envira-gallery id="1706"]
Modern French Pastries
Conducted by Chef Eric Perez
29th to 31st March 2019
[envira-gallery id="1693"]
French Pastries & Cakes
Conducted by MOF Chef Jean Francois Arnaud
11th to 13th February 2019
[envira-gallery id="1618"]